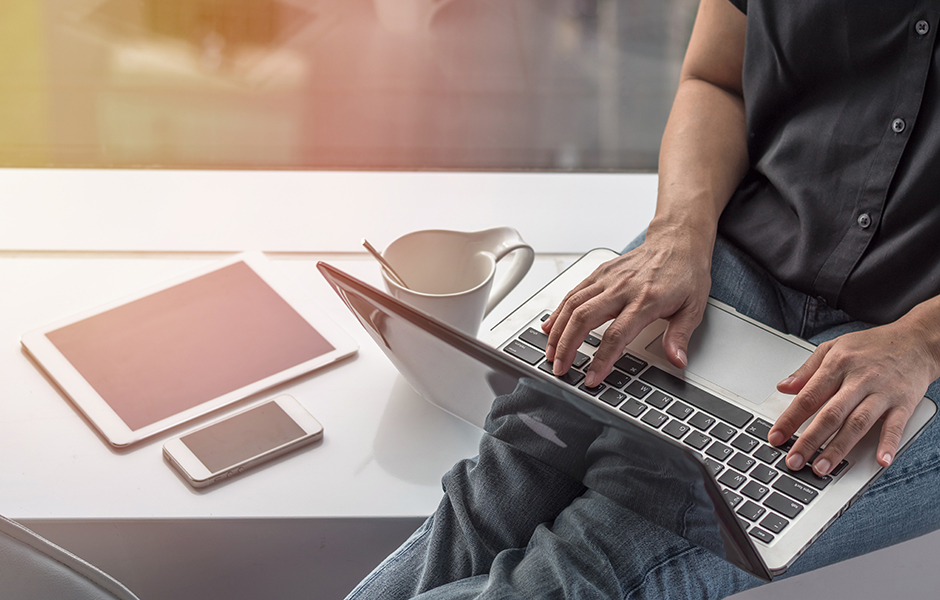 Beginning March 16, all staff are transitioning to a remote working environment.
Quick links:
Social Sciences Telecommuting Info | Tips & Tricks on Working Remotely | Ergonomic Tips & Resources | Wellness Resources | Resources
---
Social Sciences Telecommuting Info
Email Your Signed Telecommute Agreement
Please make sure you've signed the required document and worked with your supervisor on a workflow and communication plan. This includes ensuring that faculty and colleagues understand how to reach you, how you plan to receive and return documents and how you will process your work.
Check out OIT's helpful guide on how to forward your office phone to your home or cell phone.
Set Up Your New Home Office

If you have a home computer:
Leave your UCI computer powered on in your office. Social Sciences Computing staff will help you configure your office computer so that it can be "remote controlled" by the computer you use at home. This will allow you to do everything on your computer at home that you could do from your office computer, like accessing shared drives or connecting to KFS. If problems happen to your office computer, computing will have emergency staff on campus that can head to your office and get things working again.
If you do not have a home computerIf you have a home computer you can use for telecommuting, we ask you to please use that. If you do not have one, computing can provide a small desktop computer for you. This computer will be a borrowed computer from our computer labs with a fresh installation of windows and the applications you will need. The computer will come with a brand new keyboard and mouse. We have ordered some web cameras to go with these computers, but webcams are in high demand around the world and you may need to use your cell phone for Zoom while we wait for delivery. Note: Before requesting a computer, please make sure you have signed your telecommuting agreement with your supervisor. To request a telecommuting computer, please email Andrew Pfeifroth at andrew.pf@uci.edu with the subject line: TAKE HOME COMPUTER. Andrew will schedule a time with you for computer pick up and assist in configuring it for remote use.
Set up Zoom
If you haven't signed up for zoom, please head to https://uci.zoom.us and click the Sign-in button and login with your UCINetID and password. Zoom allows you to meet with up to 300 people with video and voice and allows participants to share what they see on their computer with others. Suggested tip: Once logged in, go to your Zoom profile and change your 10-digit office ID to your UCI phone number. This will allow other staff and faculty to easily Zoom you if needed (note that you will be given a prompt to accept any Zoom call; it will not automatically pick up and access your webcam).
Establish a Healthy Routine
Remote work is still work, albeit maybe in your yoga pants with a furry companion at your side. This means you still need to maintain good work habits and regular hours. UCI office hours follow an 8-hour work day, so be sure to be available and productive during your normally scheduled work day.

Normal breaks and vacation/sick time apply. If you are not working a full schedule you will request and submit sick and vacation time as normally required. If you have questions about your schedule, please ask your supervisor or our HR staff. And if you are planning to be away for scheduled sick or vacation time, please add an away message to your email so that others who contact you will know you are out.

Please stay in touch with each other, participate face-to-face in Zoom meetings and share happy quotes, quips and memes as the weeks roll along. We're all going to need it as we adjust to our new remote environments and community will remain vital to our enterprise – and personal - well-being.
Regular Communication – Supervisor Meetings
Supervisors will meet weekly via 30-minute Zoom sessions beginning Wednesday, March 18th, at 9:00 a.m. We will use this meeting to share updates and identify problems and challenges that need to be resolved. Until things settle into a new work pattern, we expect to continue receiving and disseminating lots of information from different sources. We want to make sure the flow is two-way so that everyone is connected and on the same page. It is vital for supervisors to maintain regular communication with their staff and for staff to voice concerns and questions going forward.
Capturing/digitizing documents without a scanner:
If you are working with KFS or any other work flow that requires you to send or upload a PDF, you may find yourself wishing you had access to scanner. If you don't have one at home, you can use an app on your phone or tablet to convert your paper document into a PDF. Give Microsoft's Office Lens app a try!
Link for Android devices:
https://support.office.com/en-us/article/microsoft-office-lens-for-android-ec124207-0049-4201-afaf-b5874a8e6f2b
Link for Apple iOS devices:
https://support.microsoft.com/en-us/office/microsoft-office-lens-for-ios-fbdca5f4-1b1b-4391-a931-dc1c2582397b


---
Quick Reads to Help Navigate Working Remotely
The following articles offer some guidance on how to navigate working remotely, both as a supervisor and worker. If you happen upon any great reads you'd like to share, email them to hashbach@uci.edu.
Videos
Video Conferencing Etiquette: The Do's and Don'ts, courtesy of Omega Digital Technologies
A Video Conference Call in Real Life, courtesy of Tripp and Tyler
General tips
Before the meeting:
Ensure your technology works correctly.
Frame the camera correctly.
Have the right light.
Wear work-appropriate clothing.
Ensure that you have a clean, work-appropriate background.
During the meeting:
Be on time.
Introduce everyone at the beginning.
Be courteous to other participants, don't interrupt.
Speak clearly, no need to shout.
Mute yourself when not speaking.
Keep body movements minimal.
Maintain eye contact by looking into the camera.
Don't carry on side conversations.
---
Ergonomic Tips & Resources While Working Remotely
Visit Ergonomics Tips for Remote Work specific to UCI where you'll also find information on ergonomic products. This information can also be found at the Ergonomic Main Page in ZotPortal.

Other aspects that can be controlled are one's posture while working from laptop. It is strongly discouraged to be lying in bed or sitting on a couch flexing your neck to look down at your laptop.

It is recommended to alternate positions such as sitting at a table and alternate standing at a countertop.
---
Wellness Virtual Self-Care
'Stay at Home' Wellness. Self-care is making yourself a priority in an everyday way, especially when working from home. As a part of the UCI community, faculty, staff, and retirees have many virtual wellness resources available to them. Learn more at
---